Hi , have you ever seen a hair style on someone and thought oo I like that but then when you go the hairdressers you dont know what to ask the hairstylist for, you dont no how to describe that style you have seen?
So many people struggle with this and worry what to ask the stylist for.
So in this blog I am going to describe some hair styles to you. So the hairstylist will know what you want and so you feel better about describing what you want
Haircut: A long bob just above shoulders but collar bone at the front with long layers
Colour:  highlights mainly blonde but with a few chunky warm browns going through .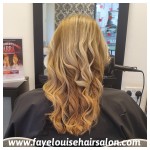 Haircut: keep long. About 3 to 4 inches under the shoulder. Long layers
Style: waves these are done with the curling wand then loosend the waves with fingers
Colour: full head light brown colour with lots of blonde highlights on top.
Haircut: long hair down back no layers just shapping around the face.
Style: waves done  with curling wand in thick sections then brushed out.
Colour: Blonde  Highlights under parting in a balayage effect, with a toner used after to create soft blonde colour. (Customers brown hair colour was her natural colour in this picture)
Haircut: very short cut into neck slightly inverted, just under ear lobe at the sides so can tuck it behind ears. Choppy layers so all sits in
Colour: This customer had previous highlights that had grown out, this time we did a light warm brown all over.
I hope this blog has helped you feel more confident in what to ask your hairstylist for  I will do another blog like this with different hair styles on.
---
---