Hello,
Fringes look lovely but can be so hard to manage.
Here is a few tips on how to style a full fringe.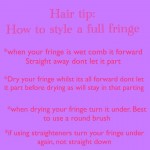 * first tip from picture above yes this is so important to get your fringe to sit where you want it to. If you let it part when it is wet and it dries like that you will not get it to sit all forward till you wash it again.
When styling you need to turn your full fringe under slightly best done with a round brush.
If you want to add some bounce into your full fringe when driying it with the round brush lift it up at the roots. If it's too straight it will stick out.Dont dry or straighten it straight down.
You can use serum on your hair before drying to help with frizz but literally a little drop you dont want to be putting too much on your fringe.
Matrix Mega Varnish is a good one.
If your full fringe gets too long and you cant have it cut yet. Or your trying to grow it out,below are some tips on how you could style it.
👱‍♀️ if your full fringe is long enough plait it to the side and secure with a clip.
👱‍♀️ pin your full fringe to the side
👱‍♀️pin your full fringe back like a quiff
👱‍♀️use a headband to keep your full fringe back.
I hope these tips help:
Check out this video on how to style your full fringe
https://m.facebook.com/story.php?story_fbid=1700216523450779&id=399384023534042