Hello, hope you are all well and staying safe in these crazy times.
I know all hair salons are closed at the moment and you must be so tempted to colour and cut your own hair, please dont …..
However it is important to still look after your hair and give it that tlc it needs.your hair will look and feel better and so will you 😀
Below are ways and products to look after your hair.
To keep your hair moisturised use less alcohol based products. Treat your hair once or twice a week with a deep hair mask (treatment) this will attract and retain moisture in your hair, masks will also repair any cuticles that are damaged
  Protect your hair from heat damage
One being the hairdryer  so make sure you are protecting your hair with a heat protector and try not to over use your styling tools on your hair.
Best products to give that TLC
A good shampoo is important, one with natural oils will help to open cuticles so moisture can be easily absorbed.
A hair mask just use once or twice a week again a natural based one is best eg. Macadamia, Argon. To open up the cuticles adding that moisture and repairing any cuticles.
Serum is brilliant to use before styling an oil based serum is the best. Serum will add that moisture making your hair soft and shiny also helping with frizz.
Here are some of mine and my customers favourite products to help keep your hair nice and healthy 😀
Rebond Matrix
Is a 3 step system cleanse, repair and nourish your hair.
It will strengthen and repair your cuticles and bonds inside your hair, that get damaged from colouring.
Too much heat and just overall stress to our hair. It will leave your hair stronger and feeling softer and less frizz, a lot easier to manage.
Check out this video on how to use it and the results it gives 😀
On Facebook Faye louise hair salon Bradford
Link below
https://www.facebook.com/399384023534042/posts/1697536973718734/
Works best as the whole set of 3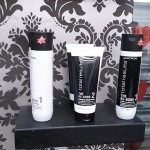 22 in1 soya want it all: Sexy hair
This is an amazing product and has changed some of my customers hair so much for the better.Making it so much more healthier and easy to manage, that this is the only product they use now.
It's a leave in treatment
Detangle spray
Serum
Heat protector
There my top things I love about this product.
Spray on wet hair before drying.
Play dirty wax: sexy hair
Is a spray wax can be used for hold and texture to the hair.
I love the spray as your hands dont get all sticky. And you dont get clumps of wax in the hair, easy to apply with out over loading and applying too much to your hair.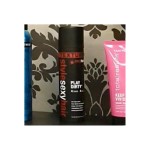 We have 2 new products
In the salon
Which are ………
Mega varish: Matrix
Is a serum that gives your hair high shine as it controls unruly hair.
Gets rid of frizz and fly away hairs.
Great for blow drying giving that smoother shiny finish.
Apply a small drop to wet hair before drying.
Olaplex:
This is just amazing the in salon treatment is added to your colour then a mask applied.
It protects your hair whilst colouring makes the bonds in your hair stronger. The difference this product makes whilst colouring is amazing.
I  will do a blog on the Olaplex, watch this space.
I hope you enjoyed this blog and stay safe x