Hello ,
So if you have  clicked on this page it's because you have done the hair quiz just for fun on Facebook

and want to know how well you have done.
Share your results please back on the Facebook post 😉
Good luck the answers are below ……..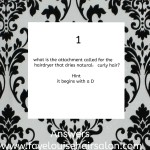 Answer is Diffuser
(Did you get it right:) )
Answer: B half inch
(How are you doing ? )
Answer: Highlighting hair
(Have you ever had the cap ? )
Answer: No. Bleach is a powder or cream used to lighten your hair. Peroxcide is what is mixed in with colour even dark colours to make them work.
(A lot of people get mixed up with this how did you do? )
Answer: A 50 to 100
(How did you do they were some tricky ones ? )
Hope you enjoyed this quiz

Share your results:)