Faye Louise hair and beauty salon is situated in Eccleshill at 23 stone hall road Bradford.
We are a one stop shop offering hair services from colours and cuts to strengthening hair treatments. Nails and spray tans.
We dedicate ourselves to making every client feel welcome, relaxed and special. You will leave looking and feeling beautiful.
Faye Louise, the owner of the salon, is highly qualified in level 3 hairdressing and level 2 barbering, giving you the best advice on the hair cuts, colour and styles that will suit you.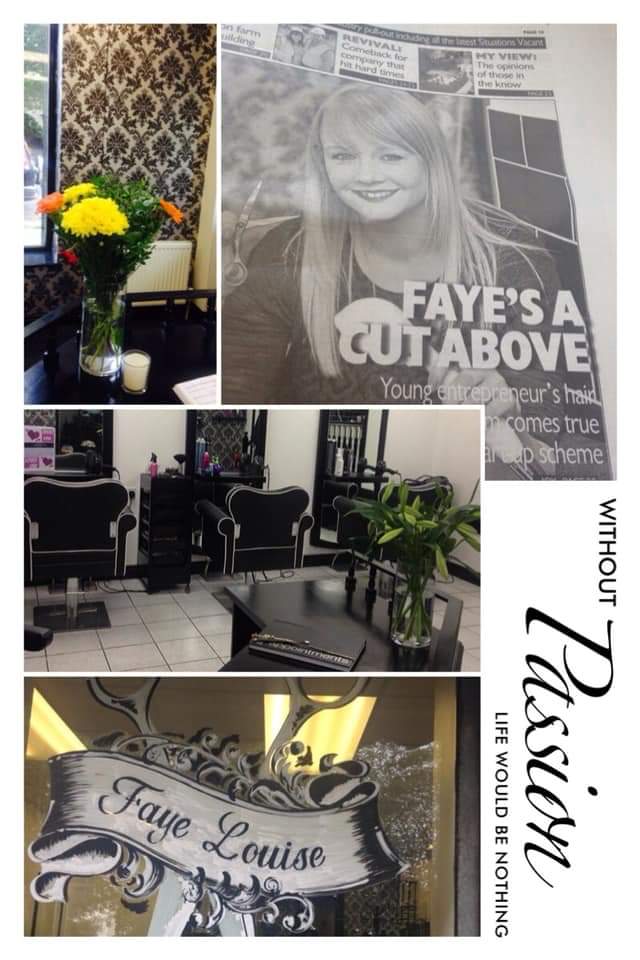 Had my hair done today at Faye Louise hair salon. Lovely place, very friendly and my hair looks fab! Great value for money also! Can't believe I won the competition for a free hair cut and straighteners! I never win anything! Thanks so much, would highly recommend! xox Chelsie Bolton
I made my first visit to the salon today, my first appointment was with Nichola at Beautique the treatment room to have a paraffin hand wax, which was very relaxing and most enjoyable a nice chat and a lovely cup of tea, then my second appointment was with Faye for a haircut, which again was most enjoyable and very relaxing and made very welcome, a beautifully presented Salon with very polite owners, well recommended and I will be going back again and I would highly recommend that you give the salon a call and check it out for yourselves

xx
Gareth Scott Davis
Had my first appointment with Faye today for a re-style and she rocks!! Love my new do so much!! She really listens to what you want and is a very good hairdresser. I would highly recommend her. Thanks Faye!! Xx Rainbow-Deborah Adams
5 stars! It's been a week since I had my hair done here, and I'm in love with it!! Very talented hairdresser and all round lovely person!! Frankie Clayton
Had my hair highlighted and cut today and I love it. From the moment I walked in Faye was very welcoming and nice. I did not feel at all uncomfortable like in some other hair salons and when I asked for advice on what colour and cut, Faye was more than happy to help. I will definitely be starting to use this salon as my usual one

x
Suzzanne Shirtliff
Thank you so much for doing my hair. I absolutely love it and even shocked with the result (going from brown/red to ombré blonde). Over the moon with it. Will definitely be returning in the future!!! Xx Jade Rebecca Bourne
Faye has been doing my hair now for a couple of years. And she is frankly amazing! !! She somehow manages always to make my hair look healthy shiny and amazing. I always feel fab!!! Dont know what I would do without her!! Donna Heath